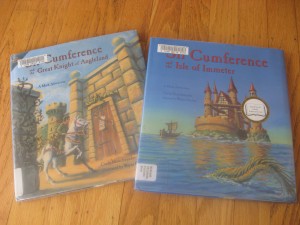 Here's a look at some of the mathematics we've been studying this week.  The girls LOVE the Sir Cumference series of books, and even though the math concepts are technically "above grade level" for them, the girls seem to have no problem understanding the material.  For example, Little Hen informed us that the slice of applesauce cake she had for dessert "makes an acute angle."
We've also pulled out a few board games from our enormous board game stash (mostly from thrift stores) that encourage children to think mathematically.  Despite the tedious sounding name, this Dino game is great for reinforcing the concept of place value for Little Hen, and simply counting and reading numbers for Firecracker.  A great game for kids of diverse ages.
Hey, That's My Fish! is a wonderful strategy game (don't listen to the age suggestions – my girls can play it and they're both well under 8 yrs old.  Firecracker and I play on one team, Little Hen on the other.)   Sudoku for Kids was a gift from my parents, and Little Hen loves to play it by herself when she needs some quiet time.  Monopoly: Don't Go to Jail is a fast-paced game we picked up at the thrift store.  It reinforces place-value and three- and four-digit addition.  It's one of Little Hen's favorite games.
What tools are you and your children using to approach math in a natural, interest-sparking way?