Now, my sewing skills are pretty basic, (nothing like the beautiful sewing at Pleasantview Schoolhouse), but this week I tried my hand at making some farmer's market totes. (A few more tote tutorials can also be found here, but I like how the pattern I used has the lining fabric peeking up above the edge of the bag).
The first tote is made out of some vintage (1950's?) fabric from the thrift store, with plain muslin lining and blue contrast stitching.  For the pocket on the front, I used a little heart I had been holding on to since I hand-quilted it at Girl Scout craft camp two decades ago.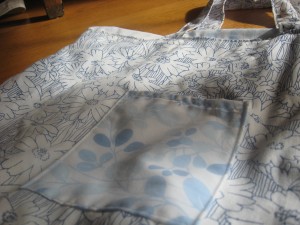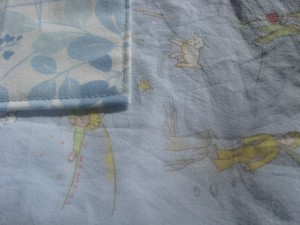 The other two totes are made from old sheets (two thrifted, and one Little Prince toddler-bed sheet with worn out elastic. ).  They are very soft, and I like the blue-on-blue in both.  The girls have already claimed the Little Prince one as a sleep-over bag for visits to Grandma's or Auntie's.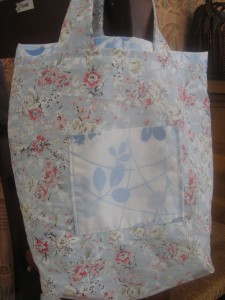 I also had enough fabric leftover from a quilt I made the other day to make a little (10″ x 12″) out of the scraps.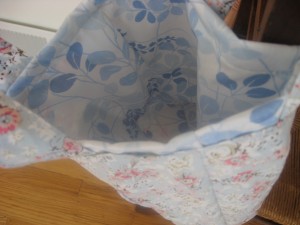 The outside material is from a skirt I cut up, and the inside and pocket are made out of the same sheet material that lines the other two blue totes.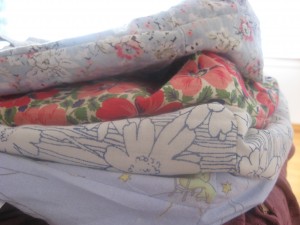 I think making totes is pretty addictive, and several folks will be receiving some for Christmas (yay for the Handmade Pledge!!).  The girls picked out fabric for their own totes at the Knittn' Kitten, and I also have fabric for two more large farmer's market-sized cut up and waiting to be sewn together.   Hopefully, I'll get to sew them up when the baby is napping later today.
Wishing you a thrifty, productive week!