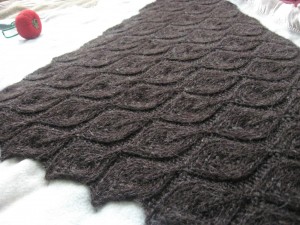 Another Candle-Flame shawl off the needles.  I had just enough alpaca yarn left from the first shawl to make another.  This pattern is so addictive and simple – it makes a heavy, warm shawl, especially in this fluffy alpaca (the original pattern calls for Brown Sheep Lamb's Pride Bulky 85% wool, 15% mohair), although there is a cone of deep gold mohair in my stash that may end up as a lighter-weight version of this shawl sometime soon.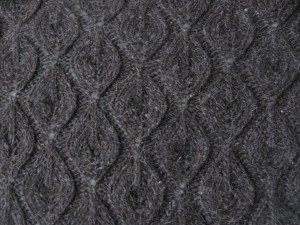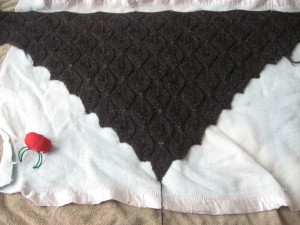 A good shawl blocking tutorial can be found at See Eunny Knit! If you'd prefer to use blocking rods or are interested in the dental floss technique (which I think I'll be trying next time) see Deborah's blocking page. I couldn't find my blocking pins, and just used straight pins from my sewing drawer.  Hopefully, all will turn out well.
I have a few things I wanted to share in the upcoming days, but we'll see how things go – this is going to be a very over-full week, which includes prep for and teaching two different knitting classes amongst a host of other projects.  Oh, and thanks to a broken tooth, I have to squeeze a root canal in somewhere this week and next. (How do other homeschoolers make it to appointments?  This is a continual issue for me – I'm never "free" during the day while my kids are in school, so making time for dentist appointments, doctor visits, errands and coordinating childcare is tough! I know I'm by no means alone in this, and would love to hear how other folks with little ones manage!)
We're looking forward to a break from the craziness the weekend after next – we're traveling to visit with dear friends on the coast (where we used to live).  We all need some relaxation pretty badly, and I think a little yurt camping, a little cider pressing, a little wave-watching, and a lot of good conversation will be exactly what we need to recharge.