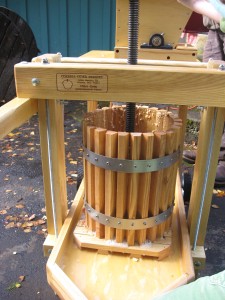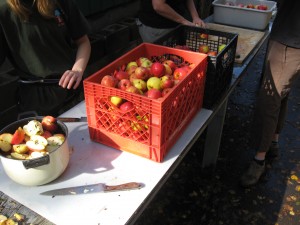 Some pictures from the cider pressing party last weekend.  It was also my husband's birthday – I'm so glad he had a great time! (We all did!)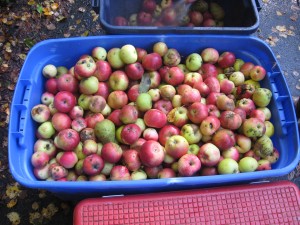 Most folks brought apples from their own trees and also gleaned many from abandoned orchards along country roads.
Apples were washed, wormy parts and bruises removed, and then cut in half or quarters to fit into the grinder.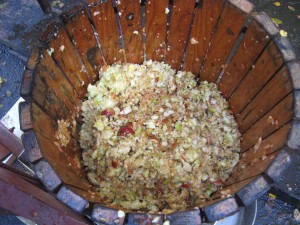 Ground apples in one of the two presses on site.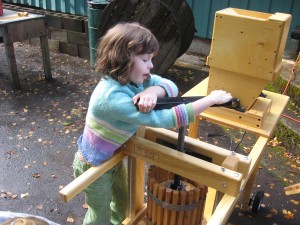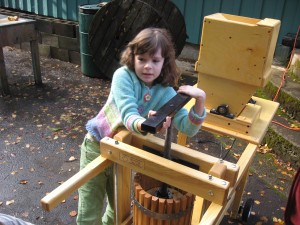 Little Hen was strong enough to crank the smaller press. (The electric grinder is the wooden box behind her on the back end of the press – SO much quicker than the hand-grinding we did in the past!)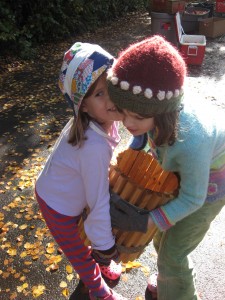 The girls carrying the pressings to the wheelbarrow (they're heavy!).  The pressings will eventually to be buried back in the orchard, although while we were there, the deer kept snacking on them.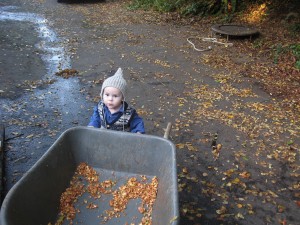 Tum Tum liked to hang out by the wheelbarrow.
Pressed cider, waiting to be strained through cheesecloth and bottled.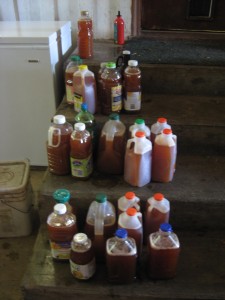 A small fraction of the finished cider – most folks froze theirs, but I canned mine, since our freezer is pretty well full.
The girls even got a chance to ride the zip line (thank you, Jody!!), which they have been talking about nonstop since. ( I've been informed by Firecracker that I need to plant some really fast growing trees, so that we, too, can have a zip line in our yard. )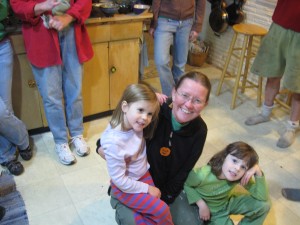 Thank you for a wonderful time, Teacher Linda!