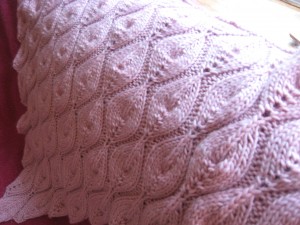 Sigh… I'm getting a bit repetitive in my blogging and my knitting both, but I can't stop knitting candleflame shawls!!  I think this pattern is this fall what Toasty was for me last winter (and I'm still cranking those out for Christmas gifts again this year).  It's easy to memorize, easy to knit while doing other things, and I love the results.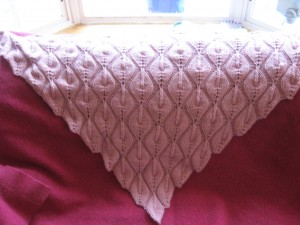 This time, I'm going to keep the shawl for myself.  Pink is not a favorite color of mine, but the shawl is so warm and big and cozy, I can't part with it.  It's knit in Brown Sheep Lamb's Pride Bulky, Victorian Rose (and that does go nicely with brown, which IS my favorite color).
It was very economical to knit (less than $12 worth of wool), because I used seconds .  There is a slight color variation throughout (not sure if it shows up in the pictures), so the yarn was very inexpensive, despite taking nearly 4 skeins.  Knit on size 11's, the whole shawl took less than two weeks including blocking, with several other knitting projects going in the background.
I hate to say it, but I've already begun another shawl, in gold 50% mohair 50% wool ( I picked up a 2 lb cone at an estate sale a few years ago for $2).  I already know who it's going to when I'm finished.  It will be interesteding to see the contrast between the heavy pink shawl and the airy, lacy mohair version when it's finished.
Do you have a knitting pattern you love to knit up over and over?  ( Please share!  I'm NWKnitterMama on Ravelry.)