We're back in our old stomping ground – on the Central Oregon Coast – this weekend.  Some dear friends are having a cider pressing party, and we wouldn't miss it for the world.  The weekend trip is also a gift to my dear husband, who celebrates his birthday today!  So, we're staying in a yurt on Beverly Beach and I have promised the girls roasted marshmallows over the campfire.  (I hope to write a bit about our trip when we return home.)
We wanted to bring a little something for our friends who are hosting the party – she was the girls' preschool teacher, with an amazing gift for connecting and communicating with young people – I learned SO much about relating to my own kids from watching her and feel very grateful the girls could have her for their preschool teacher and friend. Â  So, we decided to make something for her classroom -Â  a Princess and the Pea playset.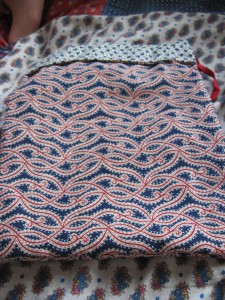 We used Soule Mama's playset (and also Tree Fall Design's) as a launching point, but used a fall color scheme and scaled it down, so little hands could hold the pieces more easily.   I also added a lined drawstring bag in which to store the set.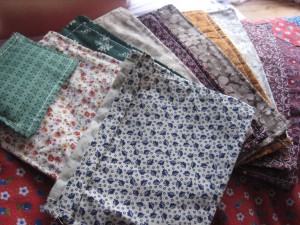 The girls and I selected fall colored fabrics from my fat-quarters stash, and whipped up some mattresses, a blanket and pillow.
We originally thought of making a paper doll, but the girls and I decided to make a cloth doll instead, since we had the fabric and the time.  Now, I am absolutely not a skilled doll maker, so she's a little rough, but Little Hen helped pick out the fabrics from the scrap bag, and helped me fashion her hair out of some merino roving, and I'm pretty pleased with the results.
She's all cotton, except for the hair, her vest, and the stuffing, which are all wool – oh, and a little bit of velvet trim on her skirt.
The pea, made of felted roving.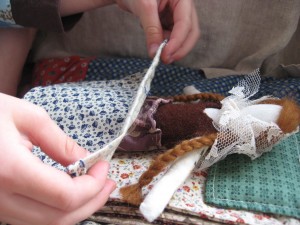 The princess gets tucked in, but oh, she can't get any rest – she tosses and turns all night! That pesky pea!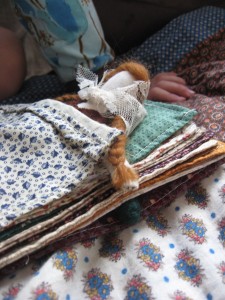 The girls and I had SO much fun making this set, and I hope to make one for Firecracker (whose favorite fairy tale is this one) as a Christmas gift.   It was joy to make something for Teacher Linda – we have been so blessed to know her, and definitely stitched our love and gratitude into every piece of this play set.
I hope you have a perfect autumn weekend – I know we'll be pressing cider in the coastal drizzle and enjoying the company of truly exceptional folks  – definitely a perfect autumn weekend if you ask me!