My husband had Veteran's Day off of work, and stayed home reading the last book of The Chronicles of Prydain to some sick little kiddos.  I took the opportunity to make a quick run to the thrift store and the craft store.
PACS is hands-down the best thrift store in Portland.  I am never disappointed when I make a trip there.  Wednesday's trip (which happened to be their half-off sale day!  Woo-hoo!) was no exception.  I picked up some little china dishes (the polka-dot sugar bowl and saucer and the flower tea cups are 1950's Japanese lustreware, I believe.)   The girls' dolls will receive them as Christmas gifts.
Total cost for all of the dishes = $ 2.12!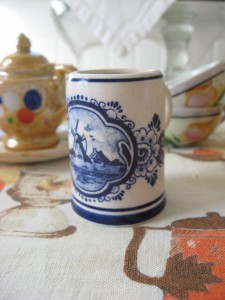 My favorite piece is this little Delft blue mug/stein, about 2 1/2 inches tall, which will be a Christmas gift to my mom, who collects blue and white china.  I think it's quite old and well loved.  It will look very pretty tucked on some shelf, holding a few sprigs of sweet alyssum and some violas.
And speaking of Christmas giving, I'd better get back to working on those socks for my dad!  Maybe Little Hen will want to read to the family out of Highlights while I get a few inches knitted.