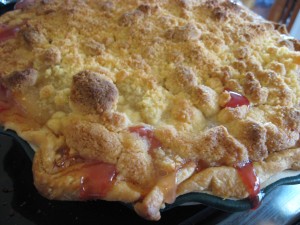 It's no secret that pie is our dessert of choice here at the Baker house.  At the holidays I try to bake a pie at least a 3 or 4 times a week, rotating between nut and custard and fruit pies.  And, in my opinion, at the holidays, no fruit pie is complete without the fruit of the season – cranberries.
I love the layer of complexity (and nutrition) that cranberries add to a fruit pie – especially how their tartness marries with the sweet flavor of barlett pears.  I made this pie for Thanksgiving and twice since (we've even had it for breakfast, and I'm sneaking a late-night slice at this very moment).  The girls love it served warm, with whipped cream on top.
When adding cranberries straight to a pie, the result is uneven (who likes a large, sour, unexpected bite of whole cranberry?) and often runny (due to the moisture cranberries release while cooking).    This recipe remedies those issues and makes a really special holiday pie.
Larksong's Cranberry-Pear Pie
Ingredients for a 10 inch-deep dish pie:
For the cranberry layer:
12 ounces fresh cranberries (one bag), picked through and washed
zest of one orange
1/2 cup light brown sugar
2 -3 tbsp unsalted butter

For the rest of the pie:

2 pints home-canned sliced pears, syrup drained off, and tossed with 2 Tbsp tapioca starch and 4 Tbsp granulated sugar

one pie crust (I prefer a lard crust), well chilled (I usually make a half dozen at once, freeze them, and just take them down to the fridge the night before I want to make a pie)
approx 2 cups butter streusel (also freezes well) or second pie crust
Directions:
1.  Preheat oven to 425 F.  In a medium skillet on medium heat, combine 2 Tbsp butter and brown sugar, stirring until sugar dissolves.  Add the cranberries and orange zest, and cook, stirring occasionally until cranberries have popped and cooked down (if it begins to stick, add additional Tbsp butter).  Remove from heat and let mixture cool slightly.
2.  While cranberries are cooking, roll out pastry.  When cranberries have cooled slightly, spread them evenly across the bottom of the pie crust (see below.)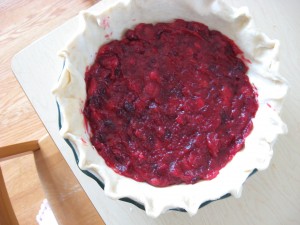 3.  Layer the pear/tapioca/sugar mixture over the cranberry layer.  Add streusel over the pears, pressing down slightly to prevent streusel from rolling off the top (the pie should be mounded up quite a bit, but will sink down some as it cooks.).  If you choose to use  a second crust, roll out the pastry, and add it to the top, decorating as you desire.
4.  Cover with foil and place in preheated oven (I use a pie moat underneath, since it may bubble over some).  Bake for 30 minutes, then remove foil and bake an additional 15-25 minutes, or until pie is bubbly and golden brown (being careful not to overbrown the streusel).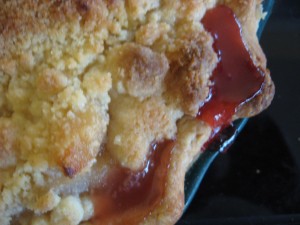 5.  Let cool for a bit, and enjoy with whipped cream or ice cream (and a glass of mulled wine).
If you have a favorite rustic holiday dessert you've written about, I would love to share the link here.  Thanks!