The girls are reaching an age where they really enjoy being able to participate in making Christmas gifts.  So, for their cousins (ages 5 1/2 and 3 1/2), we put together little paper-crafting kits, so Aasha and Ruby can enjoy an afternoon of Christmas crafting.
This is a very frugal gift, costing us less than $1 per kit, since we used cardstock scraps and last year's Christmas cards, as well as craft notions purchased at the thrift store.  It's also a gift crafty kids will love – when I made my girls fall-themed kits for Thanksgiving day, they made cards, collages, and all sorts of really inventive little creations.
If your kids would like to make these thrifty gifts for their young friends and family, they will need:
Scissors and pinking shears
a hole punch

paper punches (we used cardinal and snowflake punches, which I pick up when they are deeply discounted after the season)
Christmas-print cardstock scraps (we found some 60% off right after Thanksgiving (with a coupon)Â  for another project and I saved the scraps) or old Christmas cards to cut up
blank cardstock (we used reds and whites approx 3″x5″ from our economical big box of trimmings and discards from a stationer's)
small cellophane bags (thrifted), and one larger cellophane or paper bag
crafting notions, such as ric-rac, sequins, stickers, buttons, glitter, seam-binding (anything crafty you can pick up at the thrift store)
glue sticks and glitter glue
Directions:
1.  Use the pinking shears and scissors to cut out small pieces of cardstock and old Christmas cards – various sizes (2″x3″ up to 3″x5″).
2.  Puch out snowflakes and birds (this is Little Hen's favorite part), and sort them into the small cellophane bags. (Firecracker spent a very long time glueing the glittery wings on all of the little cardinals and getting them at just the right angle.)  Punch holes and tie with thrifted ribbon or ric-rac.
3.  Fill additional small bags with craft notions and other small cut-outs from Christmas cards, and again whole-punch and tie these closed.
4.  Neatly fill the large cellophane or paper bag with the card stock, and add the bags of punches and notions in the front.  Throw in a glue stick and a tube of glitter glue.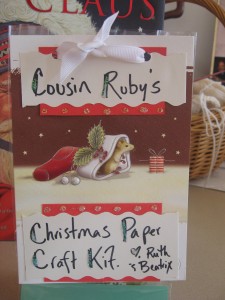 5.  Create a pretty label for the front from additional cardstock, and decorate with glitter glue.  Whole-punch, and run a ribbon through the label and the bag to attach and close.
6.  Give the gift of open-ended Christmas crafting fun!