My husband's cousin will be visiting all summer (from New York City!), and for part of her visit, she's going to be staying with us.  We were worried about her not having a place to sleep here, and have been on the lookout for a used sofa.  A queen-sized futon has been serving as our sofa for a while now, and if we could find a decent sofa, the futon could go in our semi-unfinished upstairs and give cousin Erin a place to stay (and have some peace and privacy away from the kid chaos).
This past weekend, a church right around the corner from our home had a big rummage sale, and we picked up lots of treasures, including a $3 quilt (above), dress-ups for Firecracker, a new basket to collect eggs in, and many other goodies.  It was the last day of the sale, and I kept eye-ing a mauve sofa and chair set that had been priced at $100, but just went half off.
I'm no fan of mauve, but I liked the style, they were in good shape, and I figured a quilt thrown over them would suffice for now.   If I ever get around to teaching myself some upholstery skills, I could recover them in pale turqouise velvet when the kids are older (or resell the set on craigslist long before that…).  And at $50 for the set, how could I go wrong?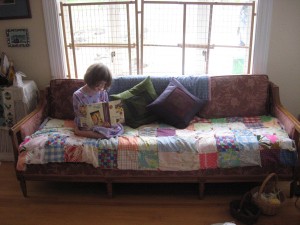 Besides, my sister says it's perfectly in keeping with my "old lady/grandma style" of decorating.  🙂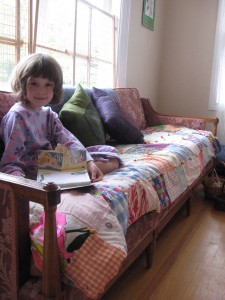 So, now, we have some legit furniture in the living room, and cousin Erin will have a place to sleep!   (Now to get painting upstairs before her visit!  We still can't decide on the colors…)