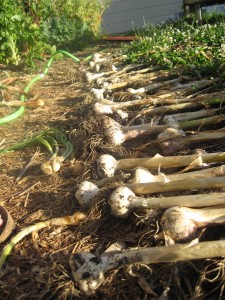 We're harvesting 8 types of hard and softneck garlic this week (and shallots, and pulling up spent pea vines).   Despite some of the garlic struggling with rust due to the rainy weather, nearly all of the bulbs are big and well formed and beautiful.
Garlic is so easy to grow, and heirloom garlic come in such an amazing range of subtle and sharp flavors – nothing like grocery store garlic (80% of which is grown in China, btw).  And shallots – which easily run $6/lb for organic shallots in the store – are even easier to grow (I buy the bulbs for planting at the Asian market for about $2/lb (much more economical than the $10+/lb for planting shallots at local nurseries in the fall – it's not organic, but then I save some of the harvest for replanting, which, of course, were grown organically.)
We'll save the best of the bulbs to replant this fall and expand our harvest for next year,  and also have some to share with BCS Teaching Garden volunteers, so that they can start a garlic patch of their own (the garlic planting class is coming in October – keep an eye out for more info this September.)
And a reminder – we're having a workshop this Saturday from 9:30-11:30, followed by a potluck lunch – check the info out here if  you're interested.