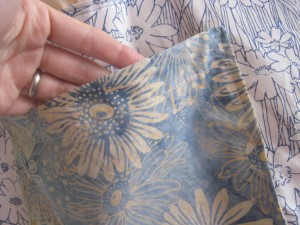 The past week, we've been tackling some simple sewing projects (and I mean simple, and even then my seams are wonky).
Most other times of the year, sewing feels more like an obligation, but it's really relaxing after dinner in the summer – especially after grubbing around in the dirt in the garden much of the day, it's nice to sit down with pretty, clean stacks of cotton prints and play, you know?
Last week, on the way to the library, we made an impulsive stop at The Fabric Depot (my first visit, ever), where I happened to find bolts and bolts of fabric 70% off, and therefore spent way more than I had intended – because it was such a good deal!!  All of the super cute prints were $3-4/yd, and the plan is to use much of the 10 yds (yikes!) to make several of these and these for the girls (they've suddenly gotten too tall for all of their skirts!).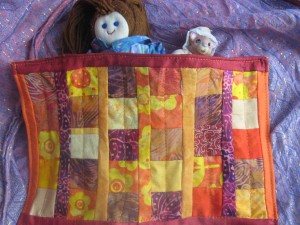 With the remnants and also some of my thrift-store fabric stash, the girls and I cranked out a few dollie quilts (especially Firecracker, who likes to sit in my lap and help guide the fabric), and also
made 8 more library/grocery tote bags for birthday and hostess gifts.  (We cut out fabric for another 8, but are a little burned out, and will probably wait a few weeks to piece them together.)   The one above is my favorite.  It's made from some vintage thrifted fabric for the body, an old 100% cotton sheet (that I tea-dyed) for the handles and lining fabric, and a little piece of that uber-expensive batik-print fabric for the pocket (I sprung for a fat-quarter, since it was so pretty).
I also made some little kid-sized totes (like the one on the right).  Tum Tum LOVES his sombrero tote and carries all his little toys in it (very handy at the restaurants, church, meetings, etc), so I made a few for my nephew and some friends' kids.  (Fabric Depot had some very cute Eric Carle fabric, as well as a fishy/octopus print that worked really well for these).  The girls each have one, as well, and keep colored pencils, stickers, notecards and cardstock in theirs – which keeps them occupied at boring meetings, as well.
(Little Hen got bored with cutting fabric, and started creating her own fabric art bouquet out of the trimmings and straight pins.)
After a week of non-stop sewing, we're going to take a little break and hopefully get the front of the house painted and some other summer household projects finished.  What summer crafting have you been up to?