Ah, summer dinners in the backyard…
Here's one of my favorite summer dessert recipes – we've been making a lot lately, with whatever fruit we have on hand: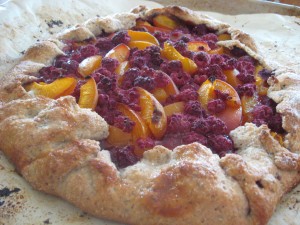 Larksong's Farm Stand Fruit Pie
For the filling:

5 peaches, peeled and sliced or 10-12 apricots sliced
4 big handfuls of raspberries, blueberries, or blackberries
2 Tbsp cornstarch
1/2 cup white sugar
For the crust:
1 3/4 cups unbleached flour
1/3 cup cornmeal (I like Bob's Redmill's medium grind.  If you use their blue cornmeal, the crust will have a pretty lavender color.)
1/3 cup white sugar, plus 1 Tbsp for dusting the crust
1/2 tsp salt
1/2 cup cold unsalted butter, grated with a box grater on the large setting
1 egg white
1.  In med bowl, combine all crust ingredients, except egg white, using clean hands to evenly distribute the grated butter.  Slowly add 4-5 Tbsp ice water, one Tbsp at a time, until nice dough comes together.  Shape into a ball and place in the fridge while preparing filling.
2.  Prepare fruit as necessary, and then, in a large bowl,  combine all filling ingredients, and toss gently (so as not to crush berries).  Make sure no lumps of cornstarch remain.
3.  Preheat oven to 425 F.   Lay a large piece of parchment paper on the counter and sprinkle with 1-2 Tbsp of cornmeal.  Remove dough from fridge, and carefully roll out on parchment into a round approx 14-15 inches.  Dough will be fragile – take care in handling it.
4.  Mound fruit filling (using a spatula to scrape out any fruit juice/sugar remaining in the bowl) in the middle of the dough, leaving a 2-inch margin all the way around.  Carefully fold edges up over the fruit – leaving a large opening in the center.  Take care to seal any cracks.  Crust should have a rustic appearance – don't worry about getting it perfectly round!
5. Carefully transfer parchment to a large, rimmed jellyroll pan (this will prevent any juice that bubbles over from spilling out and burning onto the bottom of your oven!!)  Brush outside of crust with egg white and sprinkle with additional Tbsp of sugar.  Chill for 20-30 min.   Then, bake at 425F for about 45 min, or until crust is golden and fruit is bubbly.
Enjoy! Excellent served warm with whipped cream or ice cream.  Leftovers make great breakfast the next morning!