A few more twirly skirts for the girls (yes, I'm addicted to sewing these!)
This one, which is a bit shorter (hits just below the knee on Little Hen) is a mix of thrift store fabric and 1/2 yd of clearance fabric, and thrifted ribbon (at the bottom).  Total cost = $2.10!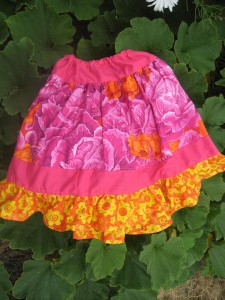 This is my favorite – so bright and cheerful – it's 1 yd of Kaffe Fassat's red cabbage print (on clearance for $3/yd!), some thrifted pink cotton and remnants of orange and yellow batik-print fabric from another project.  Total cost, estimated at $4.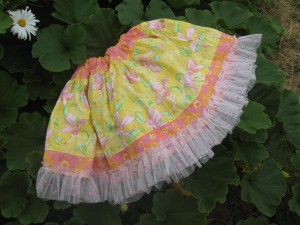 This one will be a birthday gift for Firecracker – it's everything she could possibly want in a skirt – fairy print, sequin-bedecked tulle, and yellow and pink color scheme.  It was a bit of a splurge – $12 for 3 yds of clearance fabric (one of each color), but I only used 1/2 yd of the fairy print, and about 1/3 yd of the tulle and pink print, so there is a lot of fabric left.
The tulle is added to the front of the skirt for two purposes – 1)it's extra ruffly and pretty that way and 2)it prevents the itchy edge from being against the skin, since it's not on the inside of the skirt.
Okay, I promise – that's all for sewing updates for a while!  I'm off to clean all of the fabric mess out of the living room, and the next post will be a recipe!  Check back soon!