My sister and I have talked about making homemade laundry soap for years – it's so much more economical, and environmentally friendly, plus it's so easy to make.  I'd shied away from it because, frankly, the laundry soap my friends were making looked like snot, and I wasn't up for it.
Then, a friend told me that she had started making Amanda Soule's recipe for powdered laundry soap. It was like a revelation!  I didn't have to make snotty noodle soup soap!  I could make laundry powder!
I did some fishing around on the internet, and tried some recipes, and here's the one I like best (a blending of several):
Larksong's Laundry Powder
1 Bar Fels Naptha Soap
1 Bar Dr. Bronner's Peppermint or Lavender Soap (it's 3x as expensive as Fels Naptha and I found two bars is too strong of a scent for me) OR you can use 1 bar Ivory soap.
4 cups Washing Soda (soda ash)
4 cups Natural Borax
(you can also add 1 cup of Baking Soda if you need it – I sprinkle it on diapers in the pail,  so I didn't add it)
Directions:
1.  Unwrap Fels Naptha soap, place on a paper towel, and microwave for 1 1/2 – 2 minutes.   (Caution!!  Soap will be very hot!!)
Here's a bar of Fels Naptha laundry soap straight out of the paper.
This is what it looks like after 2 min in the microwave – it puff up, and is very easy to quickly grate.
Repeat with Ivory soap.  Note: Dr. Bronner's is a castile soap, and tends to melt in the microwave more than puff up, so I just grate it as-is.  It takes a little more elbow-grease, and the kids usually aren't up for it – they much prefer to grate the "puffy soap".
Let soap cool thoroughly (about 10 min), and grate into a bowl.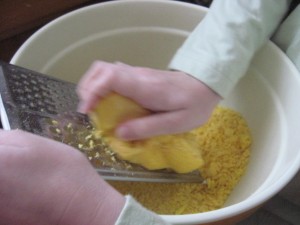 Measure and stir in borax, washing soda (and optional baking soda).    Stir thoroughly, and pour into a sealable bucket.   Makes 32-64 loads, depending on whether you have a conventional machine or an HE machine.
Soap flakes have a tendency to settle to the bottom, so I invert the bucket a few times before measuring.
You may have to fiddle with the measurements a bit – depending on your machine, and how dirty your laundry is –
I use 2 Tbsp per load for our HE machine, and 3 Tbsp for diapers (since it's low-sudsing, it's perfect for HE machines), and I had read that folks with conventional machines use 3-4 Tbsp per load.
Next time I think I'll use ivory instead of Dr. Bronner's mint soap, and add a little orange or lemon essential oil – while the mint is nice, I think I prefer my laundry to smell like citrus.
I estimate my total cost per load is about $0.09!  Not too shabby!