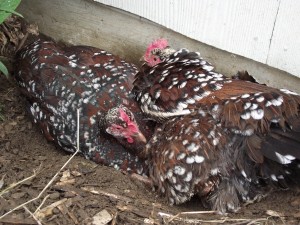 Let me start off by saying that the entertainment potential of chickens is extremely under-valued in most poultry books.
This is Oregon, in March.  Needless to say, the ground is VERY soggy and it rains every day.   Our hens don't have a spot of dry ground anywhere in their run to dust-bathe.  Because we have not planted anything besides garlic in the backyard, the hens have all-day access to the back and side yards at the moment, in an effort to reduce the population of  slugs, weeds, etc before we begin planting this weekend.
While ranging and scratching this morning, the ladies found a little dry patch of dirt, under the eaves, by the back door of the house.  It was big enough to fit one hen.
Never one to wait her turn, Bolt (on the right) decided that Kate (on the left) had better clear out, and made a big show of flapping and pecking and clucking at her.  Kate decided passive resistance was the best plan of action, and laid there, quite determined not to be booted out.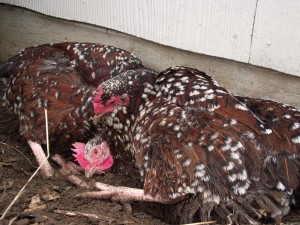 The Australorps and I stood by and watched the hilarity ensue.  I swear Plucky and Sarah were rolling their eyes and shaking their heads at the Speckled Sussex' ridiculous behavior.  🙂
In a related note – The BCS Teaching Garden kickoff workparty is this Saturday 3/5, from 10am-noon  with a FREE LUNCH (Olive Garden has donated catering) to follow from 12-1!
Please bring your shovels, gloves, wheelbarrows, and help us spread compost, plant peas and greens, and plant seeds (tomatoes, sweet peppers, and other yummy things) in pots.  We work rain or shine, so dress for the weather and lend a hand as we get the garden going!
Did I mention the FREE soup and salad lunch catered by Olive Garden afterward??

We still have a few spots open, so contact Tiffany at tiffany.mach@yahoo.com to sign up and get directions!  Thanks!