This post originally published in  October 2009.  I'm baking a raspberry batch for homeschool co-op and a peach butter batch for the neighborhood kids/my kids today.  I make this recipe several times a month, even for breakfast, and the recipe is frequently requested, so I thought it was worth republishing.

PLEASE NOTE –   I no longer make it in a 9×13 pan, but instead on a large jelly roll pan with the parchment on the bottom – I freeform a rectangle in the middle (it will not fill the entire pan).  This makes it easier to cut and serve afterward.
These raspberry oatmeal bars were a hit with the kids, so I thought I'd share the recipe.  It's an adaptation of this recipe, which can also be found in Martha Stewart's Cookies. The original recipe called for a more complicated raisin puree in the middle,  and my girls weren't so thrilled with it.  Also, I found it didn't fit the pan requirements very well,  and made a few other small changes.
Raspberry Oatmeal Bars
For the filling:

approx 2 to 2 1/2 cups raspberry preserves (Edit 2011 – or any berry preserves or fruit butter)
For the bars:
1 1/2 cups unbleached white flour
1 cup whole wheat flour
1 1/4 tsp salt
1 1/4 tsp baking soda
3/4 cup unsalted butter
1/2 cup shortening
1 1/2 cups light brown sugar, packed
1 large egg (edit 2011 – a great way to use our duck eggs!)
1 tsp pure vanilla extract
2 1/2 cups old fashioned (not quick-cooking) rolled oats
organic sanding sugar, to sprinkle on top
Directions – 1.  Preheat oven to 350 F.  Line a 9 x 13 casserole dish with parchment paper and grease with butter.
2.  In a large bowl, combine flours, salt, baking soda, oats.  In a stand mixture with paddle attachment, beat the butter and shortening until fluffy.  Add brown sugar and beat thoroughly.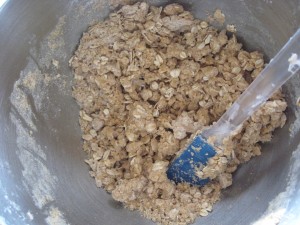 3.  Lightly beat egg and vanilla together.  Add to the mixture and beat until combined.  Reduce speed to low and slowly add the flour/oat mixture and beat until just combined.  Mixture should be crumbly (see above).
4.  Spread half of the flour/oat mixture into the bottom of the pan.  Push thoroughly into the bottom of the pan.
5.  With a spatula, spread the preserves in a liberal layer over the flour/oat crumb mixture.  Lastly, add the remaining half of the crumb mixture until over the top, gently pressing it down.  Sprinkle with sanding sugar (optional).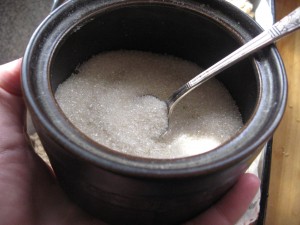 6. Bake approximately 30-40 minutes (rotating half-way through) until bars are beginning to brown on top and preserves are bubbling up around the edges.  Remove from oven and let cool completely before cutting into 2-inch squares (this is a very important step, if you cut them while the preserves are hot and have not reset, the bars will crumble.)
Enjoy!