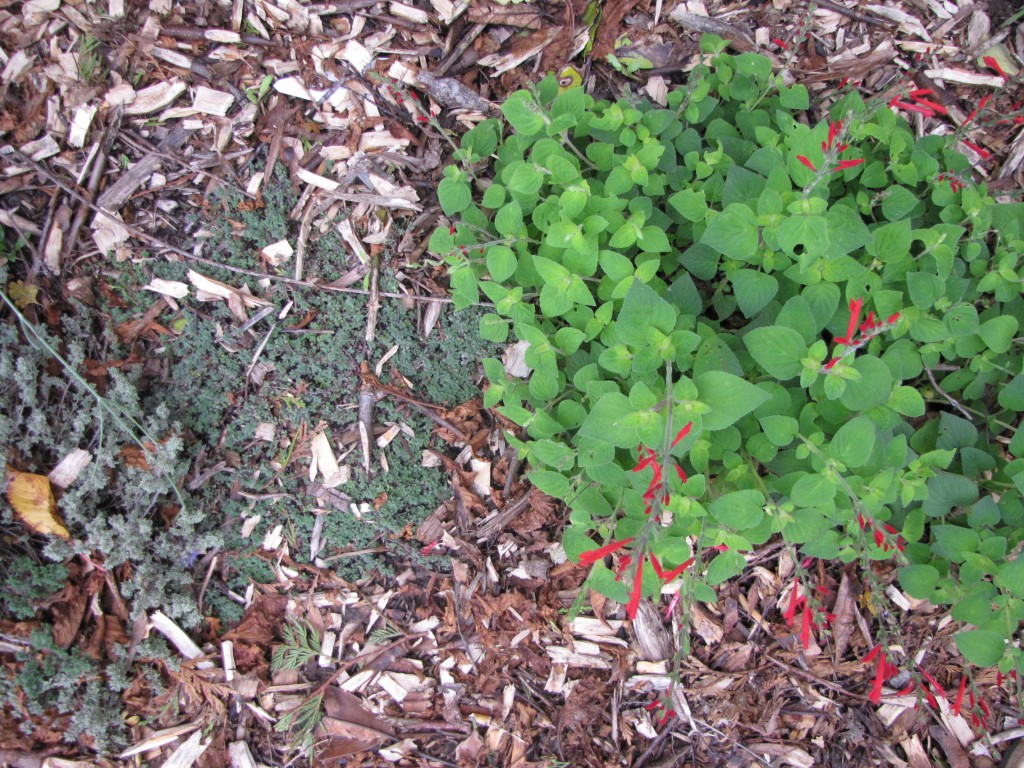 Our first frost date is October 15, but we have yet to have a hard freeze this year.  Tender plants that are normally wrapped in burlap or provided with wind screens are thriving free in the mild weather.
While George was napping, and the big kids were playing quietly inside, I spent a little time working in the yard.  I am grateful for the mild weather, because I hadn't finished planting garlic (usually completed in October), and the un-frozen ground allowed me to get several rows in and mulched right next to the driveway.
Afterward, while picking some Lacinato Kale (above) for dinner and poultry snacks, I noticed that the Tangerine Sage (Salvia elegans) was still blooming.  What a surprise!
Tangerine Sage (far right of top photo) is a tender perennial, and rarely survives the winter here.  I planted mine two summers ago in a sheltered area, and mulch it for the winter, and wrap it in burlap when temps dip below 25.  Even so, it struggled to make it through last winter.  Any yet, with temperatures in the 40s, it thrives and blooms beautiful red spires.
Some bright red sage blossoms and a few sprigs of rosemary seem like a fitting Christmas posey.
Time to get some sewing completed (finishing up Christmas skirts for the girls and their cousin).  So, we've put the holiday greenery in the windowsill next to the sewing machine.  I've always loved the particular combination of citrus and rosemary, and it fills the breakfast nook with an energizing aroma as the girls and I get ready to tackle a mountain of fabric.
.  Back tomorrow with pictures of our sewing (provided we actually finish this afternoon!)