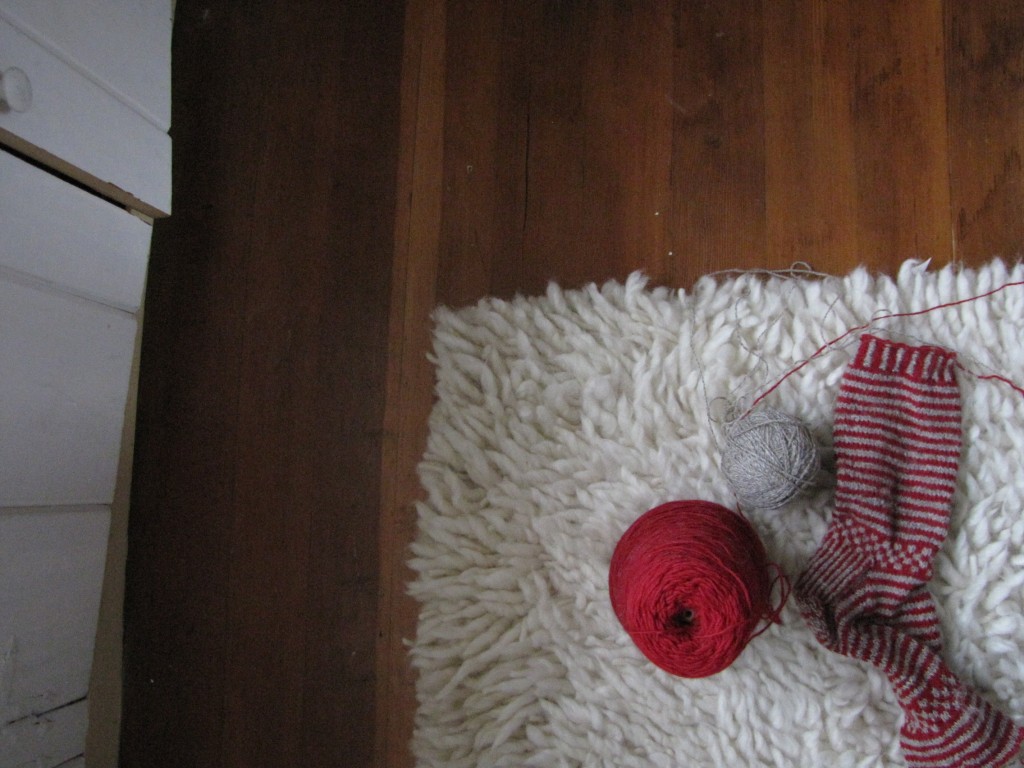 Every knitting project I have started in the last week has been an exercise in frustration.  Last week's socks got frogged, so I started knitting a Christmas pebble vest for George, and then decided I hated the shade of green (from my stash), so it, too, got frogged.  A second pair of socks, in blue tweed and pale purple-grey handspun merino got frogged as well.
I eventually settled on two handspun stash yarns for stripey socks (above).  (This grey Jacob-sheep yarn looks very handsome paired with red.  I've made socks and baby garments with the combo before.  It is one of my favorite yarns with which to knit.)
I am doing my best to only knit and spin from my stash for a whole year and not purchase any yarn or fiber, even  from the thrift store.  There is a small oak dresser upstairs packed with yarn (most lovely handspun from an estate sale of a fiber artist in the rural community where we used to live).  Trying to "knit with what I have" is frequently vexing for a whole host of reasons, but at the same time, I love opening those drawers to varied colors and textures – all those hanks of possibility.
…it is pure potential. Every ball or skein of yarn holds something inside it, and the great mystery of what that might be can be almost spiritual.
― Stephanie Pearl-McPhee