Garlic scapes! Â Ever so many! Â If you aren't familiar with scapes – they are the twisty stalk and flower bud of alliums. Â Removing them from the garlic (or shallots, etc) before they flower helps form a larger head of garlic. Â But you needn't compost them – they are edible and nutritious – a good source of manganese, selenium and vitamin B6.
Scapes will add a zippy garlicky bite to all sorts of dishes. Â Folks on my FB page have suggested sauteing them with cracked black pepper and olive oil, or pickling them (definitely going to try that. Â I bet they will make nice crisp lactofermented pickles). Â My favorite way to utilize this early summer crop is in pesto. Â So, here's my recipe: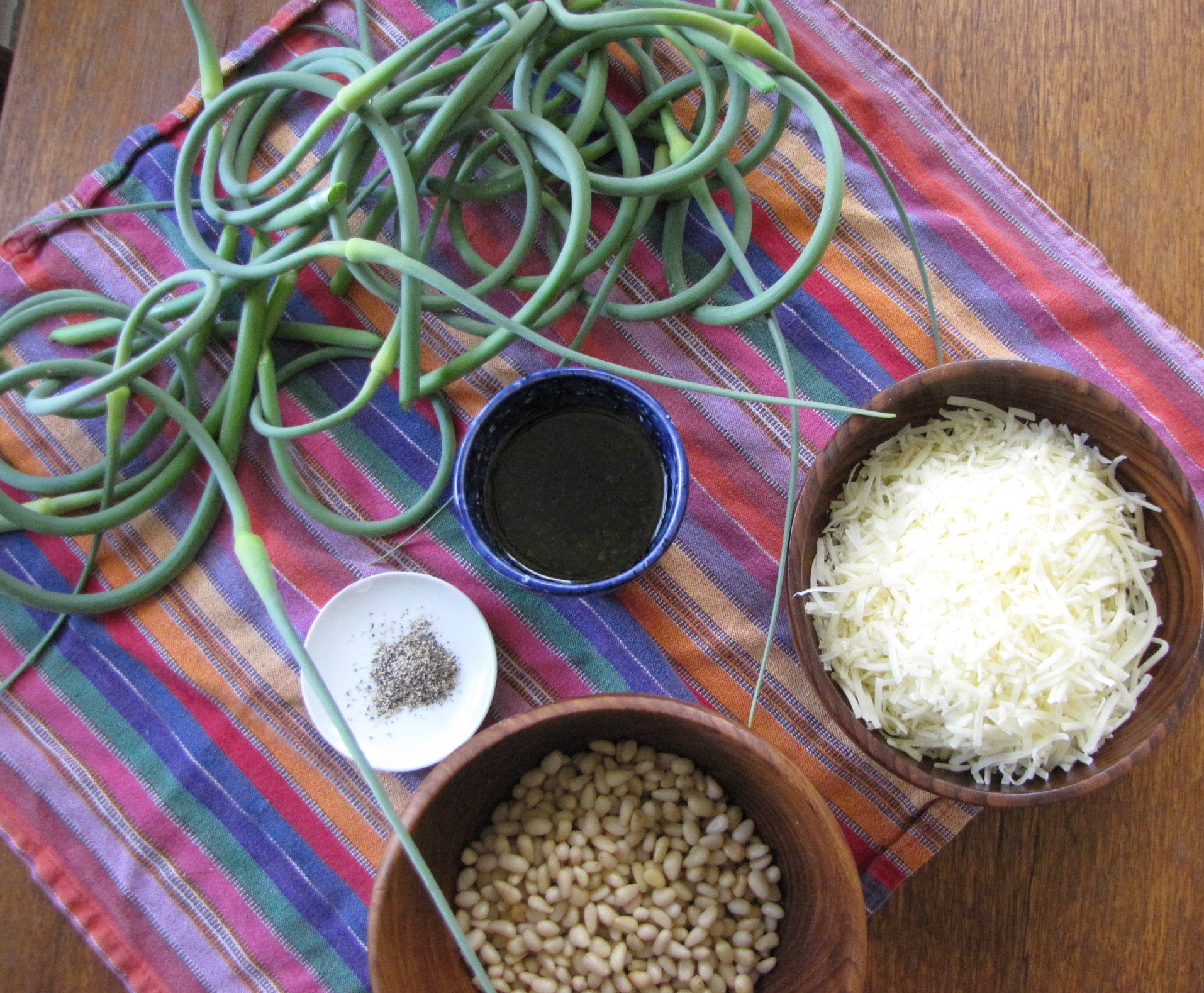 Garlic Scape Pesto
15-20 garlic scapes, washed
1 cup pine nuts (you can also use cashews, pistachios or hazelnuts if you prefer)
1 cup grated Parmigiano Reggiano, or other hard Italian cheese
large pinch of ground black pepper
2/3-1 cup extra virgin olive oil
salt to taste
Directions: Place first four ingredients in food processor, and pulse until well combined (scapes can be a little stringy, like asparagus, so you may wish to keep pulsing to finely process them into a smoother pesto).
With the processor running, drizzle in olive oil until desired consistency is reached. Â Salt to taste.
Toss with pasta or sauteed veggies (pea shoots or wilted kale are a good choice.)
Enjoy!