Strep throat and a chest cold swept through the family this week, so we have done little else besides snuggle and attempt to get well. Â New "Triple Crown" thornless blackberries are waiting to be planted in the garden, the grapes and raspberries need to be pruned back for the winter. Â However, nearly every item on this week's "to-do" list this week has been abandoned in favor of long waits – for throat cultures at the urgent care, and antibiotics at the pharmacy.
I cannot sit still without some handwork to keep me occupied. Â All of the waiting for medical appointments and snuggling with sleeping feverish children has afforded ample time to knit. Â And knit, and knit. Â I worked up a new, very simple children's fingerless mitt pattern (the children always request mittens or some such for Christmas). Â  They are a quick knit – taking only about two hours to complete, and a great use of leftover worsted-weight yarn.
A few images from our week, although there isn't much: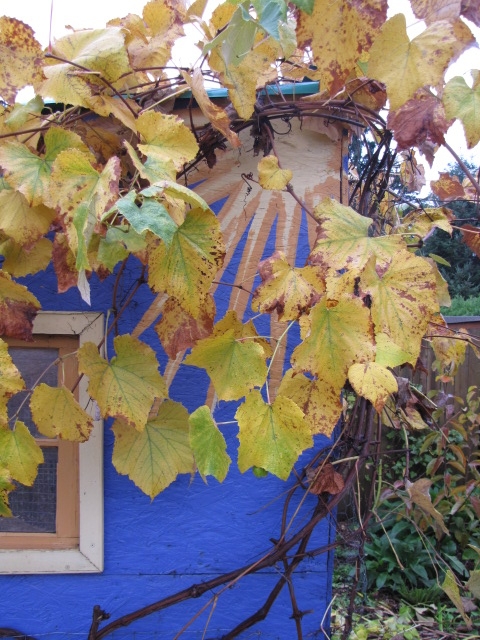 On this morning's trudge down to the chicken run to feed the poultry, I was struck by the beauty of the half-pruned Concord grapes on the chicken coop. Â We lack the showy maple trees of the Midwest, but the grapes never fail to bring some autumn color to the garden.
When George has felt like playing this week, he has been rediscovering the block basket. Â In the early morning, when the other children are still asleep, he asks if he can go play blocks.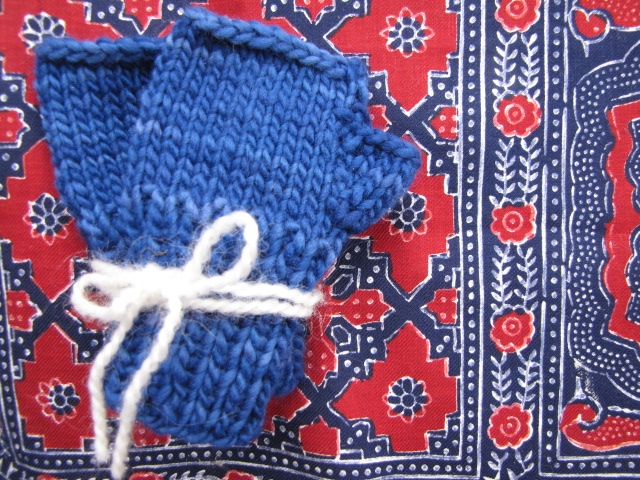 These mitts will be a Christmas gift for George – he loves anything TARDIS blue, and a friend gave me some incredibly soft Manos del Uruguay yarn, which knit up beautifully.
I think the kinks are ironed out, and will share the finished pattern (in toddler/preschool and elementary sizes) in time for next week's Yarn Along.  Be sure to check back this weekend for more from the garden, and next Wednesday for the fingerless mitt pattern.