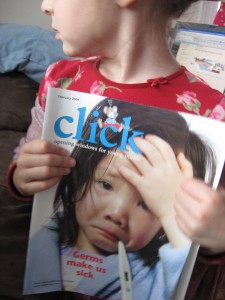 We are all sick with a cold and sore throat, spending most of yesterday and today resting on the sofa, listening to this peaceful music and reading together. Coincidentally, this month's Spider and Click are all about germs and being sick.   We've been reading all about bacteria, allergens, playing doctor, and of course the ever fascinating "magnificent mucus" (the girls keep snickering about the phrase "snot rocket" in the article about sneezing).
I thought this might be a good opportunity to reinforce good handwashing technique.  A long while back, I had read of this lesson in on of our kid magazines, and Little Hen wanted to try it out.  You will need:
Cinnamon
Apply cinnamon all over your child's hands (about 2 tsp).  The cinmamon will represent bacteria. 
Now, let child wash hands in warm running water with soap until all the cinnamon is gone.  It will take at least 30 seconds, which is the minimum time a child should spend washing his/her hands. 
Little Hen said she would think of "invisible cinnamon" every time she washes up.  I think it provided a pretty great visual aid for the necessity of good handwashing, plus, my bathroom smells like lovely cinnamon now.
Wishing you good health today and through your weekend!