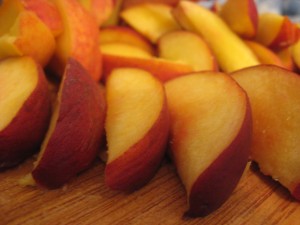 What a treat – tasty fresh organic peaches in March!  We were given two boxes of fragrant peaches, and after eating some with breakfast, we made this "cheater" cobbler (the simple batter goes on the bottom, and you simply pour the peaches on top).
My favorite things about this recipe – it's gooey and sweet with a crunchy top, it has NO eggs (great for when I happen to run out and need to make a dessert, or need to take a dish to our friends' house where they have egg allergies), and it is quick and easy.  It is very rich, though, because of the significant amount of cream and butter for the size of the dessert.
I have used home-canned, drained peaches, and also peaches plus raspberries when I was low on fresh peaches.  The result may be a bit more gooey.
Larksong's Cheater Peach Cobbler
1/2 stick (1/4 cup) unsalted butter (as always, I recommend Tillamook), melted
1 cup plus granulated sugar plus 3 Tbsp
1 cup unbleached flour (or 1/2 unbleached, 1/2 whole wheat)
2 teaspoons baking powder
1/4 teaspoon salt
1 cup heavy cream (or if you feel guilty, use whole milk)
1 teaspoon pure vanilla extract
4 ripe peaches, pitted, thinly sliced (I prefer mine unpeeled – the skin adds so much flavor!)
Directions – Heat oven to 375°. Pour melted butter into a 2 or 3-quart baking dish.
In a mixing bowl, combine 1 cup of the sugar, the flour, baking powder, and salt; stir to blend.
Stir in the milk and vanilla until blended. Pour the batter over the melted butter.
Toss the peaches with the remaining 3 Tbsp  sugar. Arrange the peach slices over the batter (The girls like to do this part).
Bake for 35 to 50 minutes, or until browning on top and set (a 2-quart dish may take longer to bake, since it'll be deeper).