A day of sorting clothes for the change of seasons found lots and lots of dresses that are too small and will be passed down to a friend's little girl.   Some were handmade for my girls, and It was bittersweet to see how much they had outgrown and to realize how quickly they're growing up.  Seemed a very short while ago that these dresses were Little Hen's, and then Firecracker's, and now they'll be another little girl's.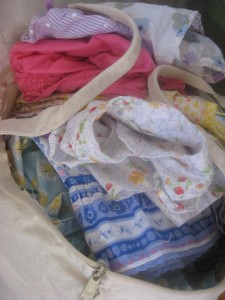 The girls reminisced for a bit ("Remember when I wore this dress to so-and-so's birthday party?", "Remember when you wore this outfit to the beach and we caught that crab?", "Remember when Auntie Jen got me this dress?"), which seriously made me misty-eyed, and then we packed them up.
Glad to be able to bless someone else with them, but I wish my girls would stop growing up so fast!!