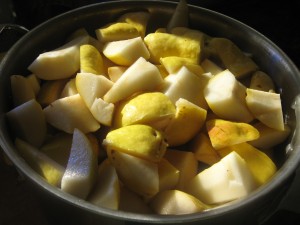 Final count from the Barlett harvest:
20 – 1/2 pints of Caramel-Spice Pear Butter (sorry, secret recipe!)
18 quarts of pears in light syrup (some spiced, some with lavender, some vanilla)
12 quarts of pear sauce (which we all discovered we prefer to applesauce – it has a wonderful buttery quality)
oodles of pear crisp and pear upsidedown-gingerbread cake
about 40 lbs eaten fresh
and 4 1/2 gallons of pear cider, for our first ever attempt at perry.  (Although, there's quite a bit of sediment, so I'm sure it will yield much less after racking once or twice…or three times, we'll see how it goes.)
After far too many hours on my feet, late at night and very early in the morning, processing all of the pears, it feels wonderful to be done.  We all look forward to enjoying the fruits of our labors throughout the fall and winter.
Thanks for being patient while I took a few days off – the whole family was down for about 5 days with a fever/chest cold and that plus putting up the pears (after all, they don't care if we're sick and the timing is inconvenient for us, they ripen when they are ready!) and some other obligations left me feeling spread pretty thin.
Today is rainy and gray and the girls are still feeling under the weather.  I'm hoping to get the house cleaned, since it's been terribly neglected for a week.  After that, I promised Little Hen we'd work on spinning with a drop spindle, and maybe read a little together.
I hope you have a restful and recuperative weekend, too.