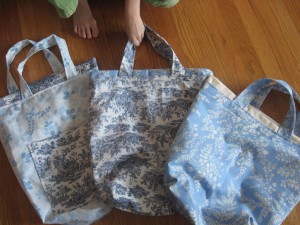 The weather here has been  bitterly, bitterly cold (we are eagerly anticipating our annual Christmas trip to Florida next weekend!!).  The past few days, we've built a big fort out of chairs and blankets in the living room.  We've been spending our mornings snuggled under it, reading Christmas stories (like this collection of short stories, and this, and this).
While Tum Tum naps in the afternoon, the girls and I have been finishing some last-minute Christmas gift sewing.   The children's' Great Aunt gave us some lovely blue toile, and I picked up some other fabric at the thrift store (including a sturdy pale-blue canvas with ferns).  We set out to make a few more farmer's market totes/library totes for family and friends.
Firecracker held and worked the pedal, and Little Hen and I guided it through the machine.  Little Hen trimmed the threads and helped cut fabric.  In two afternoons, we were able to churn out five large totes, and one child-sized one.
All of the totes are lined with contrast fabric and have reinforced, deep-set handles. Â  A few have lined pockets, since I had a bit of fabric leftover.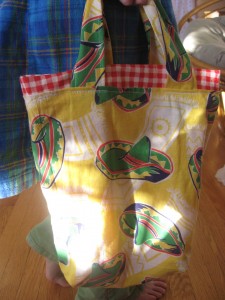 The child-sized tote was cut from 3/4 yd late 1940's/early 50's (?) sombrero fabric we found at the thrift store – the colors were so vibrant!  And for 75 cents, how could I pass it up, even with a few age spots?  I had originally planned to give it to one of my nieces, full of craft supplies (colored pencils, watercolors, brushes, etc), but Tum Tum adopted it this morning, putting Nativity figures in it and carrying them around the living room, so we'll see if it actually leaves the house…
No time to make handmade gifts for Christmas?  Consider buying handmade – here are some beautiful totes  on Etsy – a burlap coffee bag tote, a floral bag,  a tie-dyed tote, and this bright oilcloth bag.
Now to clean up the clouds of fabric and thread snippets all over our living room!