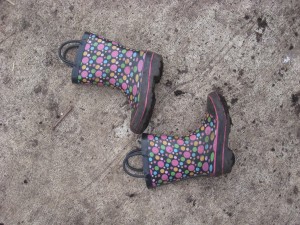 Seems like we've been living in our wellies this week as we spent most of our time planting in the garden.  This week we've started: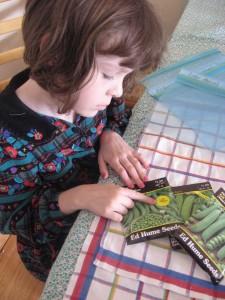 Peas, round two, this time in the front yard – Little Marvel, Tall Telephone, and Oregon Sugar Pod II.
Potatoes, in three beds in the backyard, near the larger coldframe – German Butterball, All Blue, and a rare heirloom, Red Thumb, an oblong potato with thin red skin and rosey pink flesh.
Leafy and misc. Veggies – Fordhook , Magenta Lights, and Bright Lights Swiss Chard; Russian Red, Dwarf White, and Nero Tuscana Kale, chives, an heirloom lettuce blend, mustard greens, and a brave early attempt at carrots.
Sprinkled around the edges of the beds we seeded calendula and mixed-color California poppies.  At the ends of the pea rows, we put in Wedding Blush tall sweet peas.
(Hyacinth picture by Firecracker)
When I got too tired to do any more yardwork, and the kids were tired of scooter and bike riding around the driveway, we sat on the front steps (smelling the fragrant hyacinths that have just begun to open), and potted up some seeds:
Tomato and tomatillo – third round of tomato planting, so all of these are repeats – Green Zebra, red and yellow Brandywine, Persimmon,  Black Krim, Yellow Pear, Sweet  Million, Tigerella, Cherokee Purple, Crnkovic  Yugoslav (from Seed Savers), Marvel Striped tomatoes, and Purple de Milpa tomatillos.
Other veggies – we started Musselborough Leeks and a second round of globe artichokes (Tum Tum the Destroyer did in my first pot of 7).
What veggies are you starting in your garden?  What are you most looking forward to starting?