Monday is baking day.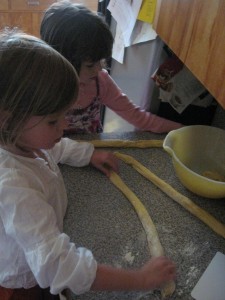 We're enjoying the Monday tradition of baking homemade bread.  Our favorite "fancy" recipe is Challah – the dough is so kid-friendly, the results wow everybody, and nothing goes better with homemade jam.
It looks like the sun is starting to come out, so I think we'll go plant some potatoes (along with the usual Yukon Gold and generic redskinned, we're trying three heirlooms this year – German Butterball, All Blue, and a lovely pink-fleshed Red Thumb).
After some busy gardening, I think we'll deserve some challah and strawberry-banana jam for afternoon snack.  🙂