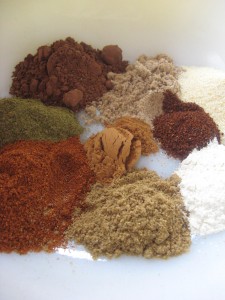 The girls and I made a special beef stew for  my birthday yesterday.  They especially enjoyed blending the spices at the beginning…and later standing by the stove, inhaling the amazing aroma of spice-dredged beef browning in butter (oh, and eating three big bowls of hot stew at dinner, too!).
We don't eat much meat, but this is a nourishing, comforting meal that is worth the effort.  A little bit after lunch, we put on some bluegrass music, started a pot of hot tea and got cooking.  Once the dish gets going, this stew can simmer through the afternoon with no need of my assistance, so it's a great choice for a day when we're going to be home and want to work in the garden or read all afternoon right up to dinner time.   (I just remember to put the rice cooker on and add the greens to the stew about half an hour before we want to eat.)
This recipe is inspired by a beef-cooked-in-chocolate-and-mild-chilis dish that I had at a friend's house years ago – I liked the flavor combination of the beef with the cocoa, oregano, and smokiness of the ancho chili powder. Â  It took me a few tries to come up with this version – just a basic beef stew with the typical tomatoes and wine to tenderize the meat, and spices we like in a typical combination – I end up changing it a little every time I make it – continuing to improve it, I hope.
Larksong's Cocoa Braised Beef
Ingredients:
In a large bowl, combine
2 Tbsp dutch process cocoa
1 Tbsp ground coriander (I prefer Penzey's Moroccan)
2 tsp smoked Spanish paprika
2Â  tsp ancho chili powder
2 tsp cumin
1 tsp ground cinnamon (again, I use Penzey's Cassia, for a stronger cinnamon flavor)
2 tsp garlic powder
1 tsp onion powder
1 1/2 tsp dried leaf oregano, crushed between your fingers

1/2 tsp ground black pepper
1 tsp salt
1/2 cup unbleached flour
You will also need:
2 Tbsp butter and 3 Tbsp olive oil
about 2 1/2 lbs stew beef, cut into 1 1/2 inch cubes (don't trim off all of the fat – it adds flavor!)
1 large onion, finely chopped
1 large red or yellow bell pepper, finely chopped (optional.  And when we have fresh pimentos from the garden, I use 3 or 4 of those)

2 cloves garlic, minced

1/2 cup good quality red wine
1 can crushed tomatoes (with basil, if you like), or part of a quart of home-canned tomatoes, crushed between your fingers, juice included
1 -2 chipotle peppers (from a can of chipotles in adobo), crushed in a mortar and pestle or minced (with gloves on!) (optional – 1 for some heat, 2 for a lot – these can have quite a kick. Â  I leave it out when making this for the kids)

1 3/4 cups beef broth (if I don't have any in the freezer, I will use Penzey's ham base, according to the directions and mix with 1 3/4 cups water – adds a sweetness and smokiness to the broth)
3 big handfuls spinach, kale, or chard, chopped (whatever is growing fresh in the garden, or half a pack of frozen spinach, if necessary).  If using kale, remove the ribs.  If using chard, remove and chop ribs, and add these to the stew 10 minutes before adding the chopped leaves.

fresh oregano, for garnish (I actually have some in the garden already, thanks to Teacher Linda!)
A pot of  white or brown rice, and a loaf of crusty bread

Directions –
1.  In a large pot/ Dutch oven, heat 1 Tbsp butter and 1 Tbsp olive oil on med heat.  While oils are heating, toss the cubed beef in the bowl of spices, coating thoroughly.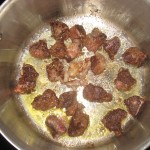 2. Brown spice-dredged meat in batches, being careful to avoid crowding meat, so that it can caramelize (instead of steaming, which is all it will do in a crowded pan). (There will be excess spice/flour mix in the bottom of the bowl – save this!).    This will take about 4 batches – halfway through, add additional 1 Tbsp olive oil.  Remove all browned beef to a separate plate.
3.  Add remaining Tbsp of butter, reserved flour/spice mix to the pot, stirring until fragrant and browning a bit.  Deglaze pan with 1/2 cup of red wine, and pour this back into the bowl and reserve.
4.  Add remaining Tbsp olive oil to the pan, and cook onions and bell pepper until softened, about 5 min, then add garlic and cook, stirring, for another 2-3 minutes.
5.  Add beef (and any drippings that accumulate on the plate) , wine/flour/spice mix, tomatoes, beef broth and crushed chipotles (optional) to the pot.  Bring to a boil, then reduce to a simmer.  Cover and cook about 2 hours, or until meat is falling-apart tender (the flour will thicken the broth as it cooks, but if it looks like it's getting too thick, you can add another 1/4 to 1/2 cup broth or water).
6) Add greens, and cook for another 20-30 min.  Garnish with chopped fresh oregano and serve over rice.  Enjoy!