The children went to a Storybook Costume Ball with their cousins last night.   We had a two-day scramble to throw together some costumes, but we pulled it off just in time!    Here's a little bit on what we made:
Little Hen wanted to be Amphitrite, the Queen of the Ocean, wife of Poseiden, in Greek Mythology.
Her costume:
$0.50 -A blue velvet skirt from the thrift store (with about 12 holes in it that we had to mend)
$0.00 – a tank top from her closet with a seahorse on it and a "seaweed" looking scarf from my closet
$0.50 – 1/4 yd of ocean print fabric, from which we made part of her crown and cut out sea creatures to tack to her "ocean" skirt
$0.00 – more ocean creatures to sew onto skirt, which she drew out of cardstock and decorated with glitter glue.
$0.00 – scraps of leftover fabric from her brother's costume to make her crown
$0.00 -some body glitter leftover from Halloween
—————————————–
Total cost $1.00!!!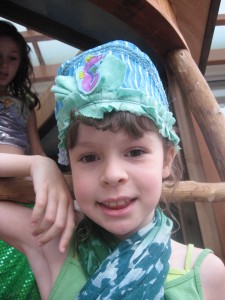 She helped me cut the pieces and sew her crown out of scraps from her brother's costume – the middle of the crown(to make it stand up) is 3-layers of very ugly flannel that came in a big bag of thrift store scraps.  We whipped it up in about 15 minutes (you can't see the sea creatures she cut out and sewed to the sides and back from this shot…)
Firecracker wanted to be a mermaid.  With no pattern, limited time and $, here's what we came up with:  She didn't want a tail-shaped skirt, because they are difficult to walk/run/play in since they are awfully narrow at the bottom.    We decided to sew her a skirt with blue fabric, which would be the sea she's swimming in, and then make a two-piece apron "tail" that she could take on and off if she wanted.
We lucked out at the thrift store and found an adult size 4 skirt with blue fabric (yes, it's butterflies, but Firecracker said it looked "oceany" to her!), so I didn't have to make a skirt from scratch – I simply cut it up and resewed it in her size, with an elastic waistband.  Voila!  Sea skirt!
$3 – blue skirt, cut down and resewn to fit a 5 year-old
$0.10 -thrift store elastic
$2.00 – 1/2 yd of clearance fabric at Fabric Depot (turquoise with swirls, Firecracker thought it looked like scales)
$0.00 – 1 yd very ugly flannel from a previously thrifted bag of fabric, for the double layer batting in the tail – to give it rigidity.
$0.00 – random snippets of green fabric for tail decoration plus a scarf from the dress up box for the tail, piece of blue tulle for her hair from dress up box
$0.00 – white leotard and blue bikini top from dress up bin
$0.10 – turquoise bias tape from the thrift store (for the apron-tail ties)
————————————————————–
Total cost – $5.20 (plus, some turquoise fabric leftover for doll quilts, etc, and it includes a perfectly good skirt for her and Little Hen to wear anytime)
Since his big sister and cousin both wanted to be mermaids, guess what Tum Tum wanted to be?  MERBOY!!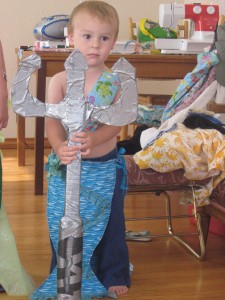 His daddy even made him a trident from coardboard and foam and duct tape (which was a bit of a dangerous idea, but he loved it!) (Please ignore the mountains of fabric in the background, as long as the sewing machine has to be out, I'm going to sew, sew, sew!  Wish I had a sewing room!)
$0.00 – Blue knit pants from Tum Tum's closet plus blue leather moccasins
$0.50 – 1/4 yd ocean print fabric for his sash (mermen don't wear shirts!)
$ 2.50 – 1/2 yd of blue "waves" fabric Firecracker found at Fabric Depot on clearance for the tail.  (Yay, kiddo! )
$0.10 – thrifted seam binding for the ties
$0.00 – 1 yd very ugly previously-thrifted flannel for the double-layer batting to add stiffness to the tail(s).
$0.00 – scraps from making Firecracker's tail(s) used to make his fin and decoration on the front.
——————————————————————–
Total cost – $3.10!!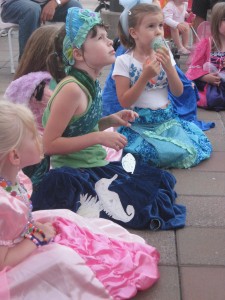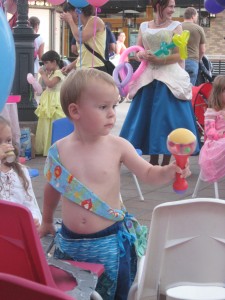 We had a great time!!  Thanks for inviting us, Aunt Kristi and Cousin Ruby!!