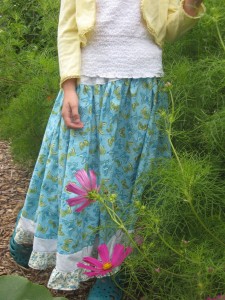 The girls have finally gotten their long-asked-for twirly skirts!  I used 7 Layer Studio's tutorial and Going Sew Crazy's as well, and sort of mushed them together, used whatever measurements of scrap fabric I had on hand.  Thankfully, twirly skirts are pretty forgivable and they turned out great!
Little Hen's skirt used some thrift store fabric, including the blue-bird ruffle on the bottom,  an old pale blue polka-dotted crib sheet for the waist panel and strip above the ruffle.   The elastic was also from the thrift store, but the butterfly print fabric was on clearance at the fabric store, so total cost = $3.25.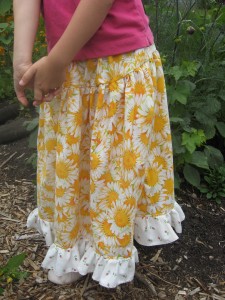 Firecracker's skirt is entirely from thrifted fabric – the gorgeous daisy fabric is from a vintage 100% cotton fitted sheet (which also provided to elastic for the waist panel).  After making the skirt, there is a LOT of fabric left, so at $2.25, it was a steal!  The rosebud ruffle fabric was also at the thrift store for a quarter, so based on yardage used, I estimate the skirt cost about $1.25 to make.
I admit, making twirly skirts can be super addictive.  I've got fabric cut up for 4 more (for presents for the girls, using some seriously fun fabric, including a fairy print with pink sequin tulle for the ruffle for Firecracker's next birthday), and, if I can find enough yardage at the thrift store, I'd love to make a few for myself.
Blessings on the rest of your week!  I know I'll be spending mine sewing up the rest of the skirts and getting some serious garden work done.