This morning Little Hen was up early, all excited about her idea – she was asking if she could create "a cafe with a menu and everything" for homeschool today.  We don't eat out much, and I'm not sure of the source of her inspiration, but what a great idea!
She had very specific ideas about what she wanted – the cafe must 1)serve autumn food 2) have a tri-fold menu in fall colors and 3)offer appetizers, drinks, entrees and desserts and 4) she would be the waitress, I would be the customer, and Firecracker would be the chef.
Here's how we made it: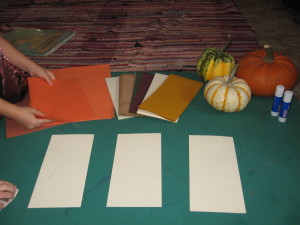 Little Hen writing the title page.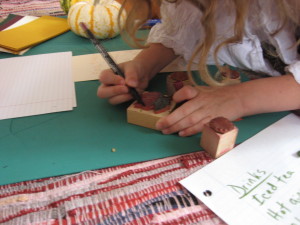 and decorating with fall stamps
Then we made the inside pages.  Little Hen wrote the titles and asked me to write in the dishes (She is only 5, and gets tired writing so much, she explained).  She and Firecracker decided on what dishes the cafe would serve – all things they felt were reflective of the fall season. 
Don't you love how she spells "entree" (at the top of the picture)?  So adorable.
Then we glued two pieces of construction paper together, glued a coordinating piece on top, and glued our three menu panels over it all:
After folding it into thirds, we spent the morning play Cafe – the girls took my order and served me playfood.  After I "ate" my entree, Firecracker said, "Now, who has room for dessert? We have a lovely selection."  Too cute - she sounded just like a waitress!