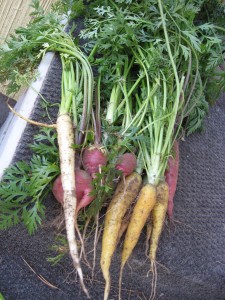 We're still trying to eat local when at all possible (Meaning, when it's a prudent use of our financial resources.)  That includes growing our own food whenever we can.  This dinner contained:
from Oregon - 8 young organic carrots (from our garden), 1 onion, 3 garlic cloves, 2 tbsp unsalted butter, 1 ambrosia apple, large handful of cranberries,  3 small links organic bratwurst, dried parsley (from a friend's garden)
 from Washington – merlot for drinking and in the sauce
from California – organic brown rice, organic white rice (the sticking point on "all local" is always the grain or pasta, which I can never seem to find locally grown at an even semi-reasonable price).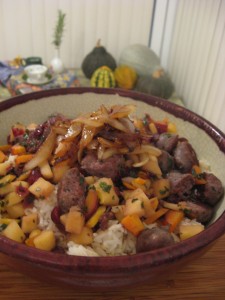 Next time I'll change one thing – I'll add a large handful of vitamin-rich chopped kale.  Truth be told, we were late getting home from Girl Scouts, I was in a rush to make dinner, and didn't feel like taking the time to go out in the dark and pick some greens. 
Total estimated cost for dinner for 4, and leftovers for 1 lunch, not including whole milk to drink (for the girls) and wine to drink (for the adults) –  $5.80.  The primary expense? $3.23 for the 3 organic, local, sausage links (on sale at New Seasons).  We are finding more and more that you can be very frugal and feed your family local, organic, nutritious meals.