Firecracker has been begging me to make her a skirt out of some blue fabric with white flowers that I picked up at the thrift store.  So, this week, I pulled my sewing machine down from the attic, and we all sat down to make some skirts. 
I'm no seamstress, and with one little girl or the other sitting in my lap to help guide the fabric or work the pedal, the seams are less than perfect, but it was a great learning experience for them, and we had a lot of fun.  I used this pattern as a guide, but made some alterations.
I have to admit, we got carried away, and over the past few days the girls and I have made 18 skirts!!!  I have a feeling that several little girls we know may be getting skirts for Christmas gifts.  A few of the finished skirts: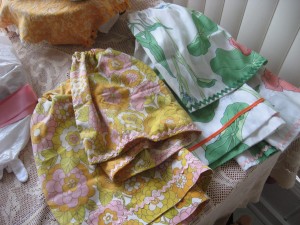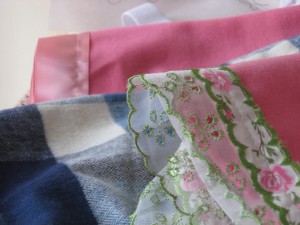 All the fabrics and all of the lace and ric-rac and ribbon are from the thrift store, except for the pink wool, which my grandmother-in-law gave me.  I estimate the total cost to be less than $3, for all 18 skirts.   
Next skirt project  – the tiered skirt from Just Tutes!!!
I hope your day is full of straight seams and lacy trim!