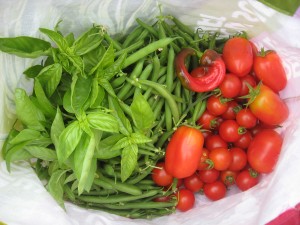 Fridays are my days to volunteer at Penelope's Garden.  This week's harvest was 29 lbs delivered to Birch Community Services!!
The raspberries are all done for the year, the mint bolted in the heat, but the tomatoes and green beans are in full production!  There were even some carrots and a new patch of basil ready.   (I must admit, I couldn't help myself and snacked on some of the tender beans while harvesting – SO delicious!)
The heat wave, followed by the cool snap in the weather caused the Walla Walla sweet onions to bolt and then fall, so that meant harvest time for them, too.  They smelled unbelievably good.
Next week it looks like lots of peppers, some patty-pans, and maybe even some cucumbers will be added to the wave of tomatoes and green beans to bring in.  Can't wait!
What are you harvesting in your garden this week?
(Don't forget – check out my Contest, if you haven't yet.  Thanks!)