Yesterday afternoon, with my son on my back, the girls and I potted up the first of our tomato seedlings – all 51 of them.  (The one above is a "Black Krim", a favorite of ours for salads.)  Another 26 little tomato-lets (started a week later) will be potted up this weekend, time allowing.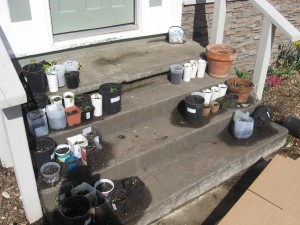 (Above: Our eclectic collection of potted-up tomatoes – in sour cream and tapioca containers, large paper cups, milk jugs, juice bottles, hand-me-down pots.)
It felt wonderful to spend the afternoon in the warm sunshine, kneeling with my children on the front steps, tenderly moving each little seedling from a starting tray into its own pot.   It felt wonderful to be growing food with my children, and I am grateful for the many, many days  of gardening with them that are spread out in front of us.