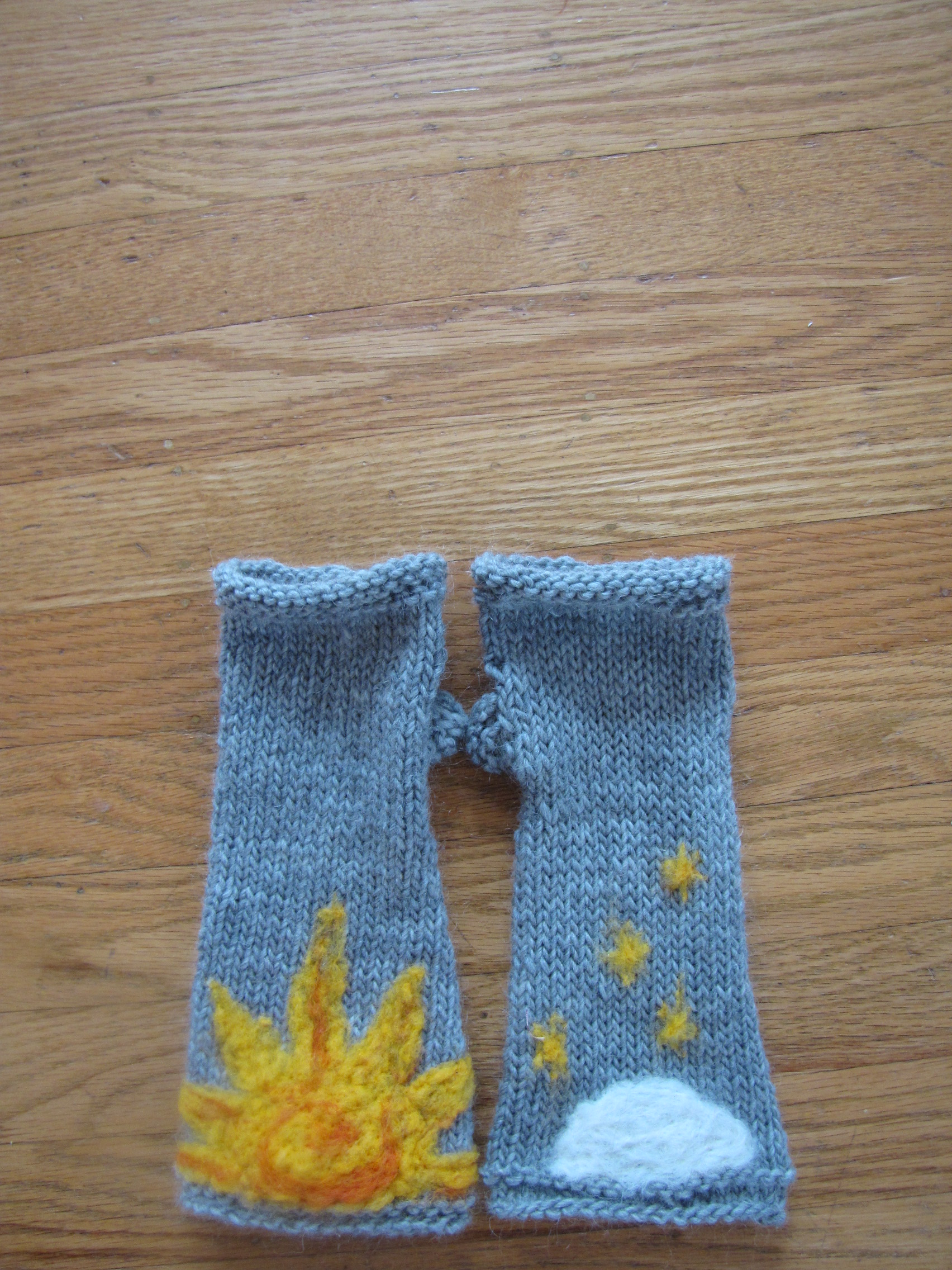 Off the needles: Â  A simple pair of mitts for a gift exchange, to which I added a little needle-felted embellishment.
Ruth painted a cheery sun on the card and we sewed a drawstring gift bag to round out the gift, and packaged it up. Â  It was sent it on its way across the country, where it will bring a fellow Grinnellian some Christmas cheer.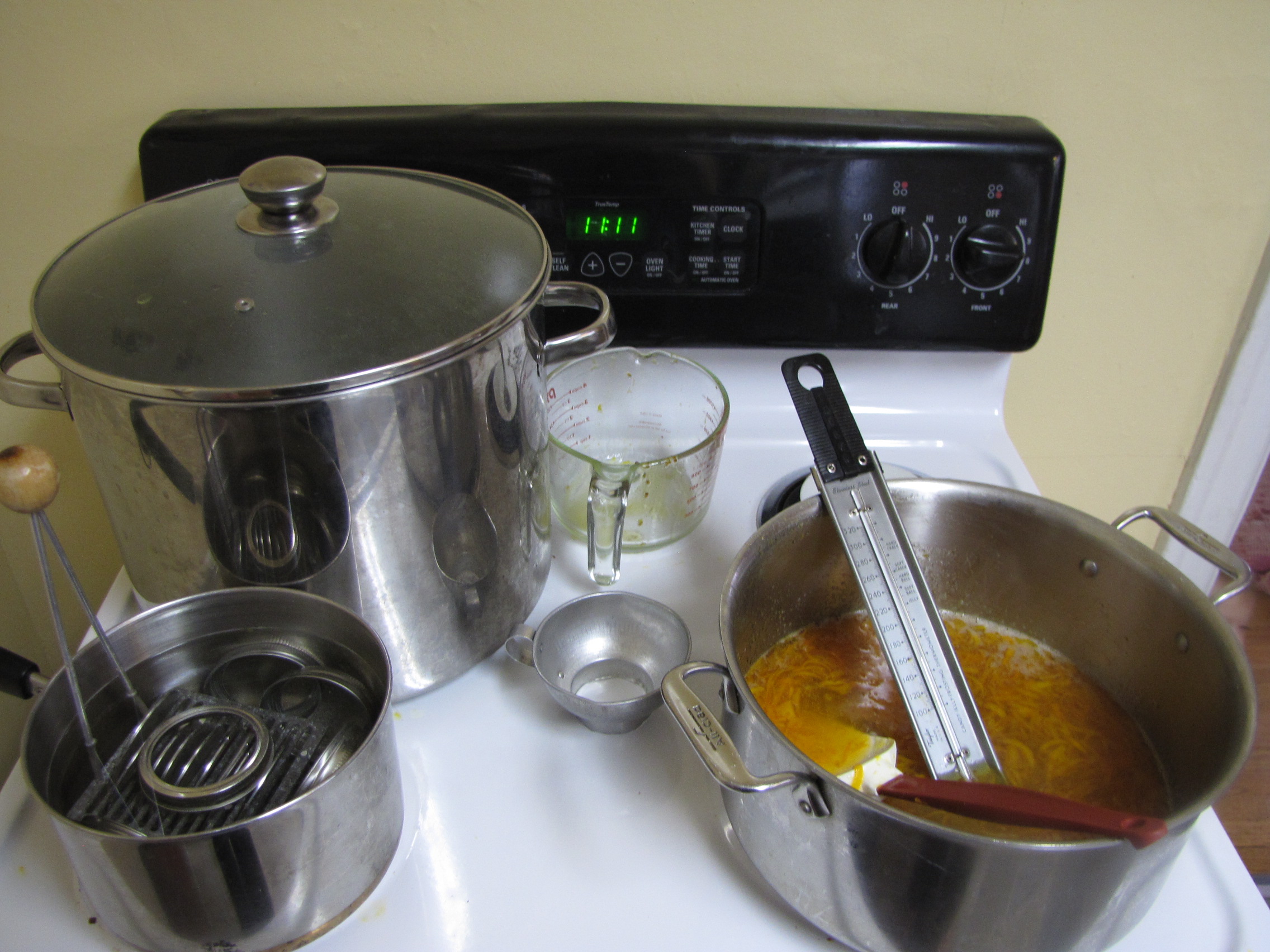 To bring our own family a bit of sunshine in midwinter, a batch of sunny bright marmalade was in order. Â I was planning on plain old orange, but when I managed to get my hands on a bowl full of calamondins this week, I knew they were destined for marmalade perfection. Â Calamondins are petite, seedy and extremely sour citrus. Â However, jam connoisseurs (like Bea, who absolutely relishes marmalade) consider marmalade made with these little oranges to be the finest around.
Calamondins have a slightly smoky, musky – almost black currant – undertone that lends a subtle complexity to the finished jam. Â The peel melts in as it cooks, providing texture and flavor, without any detracting chunkiness or bitterness. Â If you are lucky enough to be able to source calamondins, the flavor is well worth the extra effort of seeding and slicing dozens of miniature oranges. Â If not, you can substitute satsuma tangerines for sweeter finished product, or Meyer lemons for an extra tart marmalade. Â Here is my recipe:
Calamondin Marmalade for Bea
Calamondins (see substitutions above), halved, seeded, and sliced paper thin, to equal 3 cups of pulp + peel (about 40 fruits)
2 1/4 cups water (or 3/4 cup water for every cup of citrus pulp)
White sugar
Directions:
-In a medium heavy-bottomed sauce pan, combine pulp and water. Â On medium heat, bring to a boil, and simmer for 15 minutes. Â Remove from heat and allow to cool. Â (You can do this the night before and refrigerate it.)
-Prep all your canning equipment. Â Bring hot water bath canner full of water up to a boil. Â Sterilize jars, heat lids and rings.
-Measure pulp.  It should equal 4 cups (give or take).  In a large heavy-bottomed pot, combine sugar and pulp in a 1:1 ratio (add 1 cup of white sugar for every cup of pulp).  Bring to a boil, and cook until jelly point (22oF) is reached.  (Alternately, you use the spoon method to determine when the jam is finished.).
-Citrus is high in pectin, so be careful not to overcook, or you will have unpleasant sheets of rubbery pectin in the finished product. Â Remove jam from the heat, and stir once a minute for four minutes (this distributes the peel, so it does not all float to the top of each jar). Â After four to five minutes, the jam can be jarred up.
-Pour marmalade into hot sterilized jars, add lids and secure rings. Â Process 1/2 pints in a hot water bath canner for five minutes.
And to bring a little cheer to your midwinter as we turn back to the sun, a few lines from one of our favorite books of poetry - A Visit To William Blake's Inn by Nancy Willard – and its delightful Marmalade Man:
The man in the marmalade hat
bustled through all the rooms,
and calling for dusters and brooms
he trundled the guests from their beds,
badgers and hedgehogs and moles.
Winter is over, my loves, he said.
Come away from your hollows and holes.