…reading a few chapters in Ann Voskamp's book before the children were up…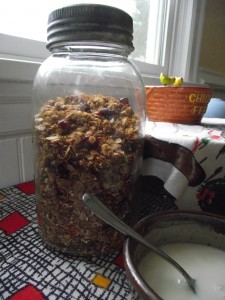 …enjoying granola in the breakfast nook after morning chores, watching chickens, ducks mucking happily around the yard  (Cran-Walnut Granola recipe at the bottom)
…quilting for a neighbor's baby, due in 2 weeks, while the children had breakfast.
A welcome reprieve before tackling the general chaos of the day.
Larksong's Cranberry Walnut Granola
Preheat oven to 325F, and get out two large jellyroll pans.
In a large bowl, combine:
6 cups old fashioned oats
2 cups unsweetened, unsulfured coconut
1 cup wheat germ
1 heaping cup sesame seeds
1 1/2 cups chopped walnuts
1/2 cup sunflower seeds

1-2 tsp cinnamon
1/8 tsp ground cloves
pinch of sea salt
In a saucepan, on med-heat, combine 1  cup of honey, 1/2 cup maple syrup, 3 tbsp dark brown sugar, 1 cup veg oil (I use 1/4 cup hazelnut oil, 3/4 cup veg oil), and heat until warm and honey is thin.  Stir vigorously, and then pour over dry ingredients.
Toss all until combined, then spread over two sheets and bake 20 min.
Remove from oven, stir, scraping around the edges especially, since they will brown first.
Return to oven, and bake approx 20-25 min more, scraping and stirring granola every 5-7 min to prevent scorching in parts.
When granola is dark, toasty, and fragrant, remove from oven and immediately stir in 1 1/2 cups dried cranberries.  While granola is still hot, transfer to a glass or other nonstick bowl, or granola will stick to sheets as it cools.  When totally cooled, break up with a fork and put in sealed jars to keep crisp.  Will keep 1 month, but ours is eaten up in less than a week.
(Cost comparison: similar granola at New Seasons Market – $8.99/lb.   Estimated cost of homemade – about $2.50/lb (all items purchased in bulk to cut costs considerably, except walnuts, which were gleaned from a friend's tree.)